VISION and MISSION OF THE ORGANIZATION
OUR VISION
To create peaceful co-existence between South African host community and immigrants.
OUR MISSION
To provide a platform for harnessing talent and empowerment of immigrants and the host communities so that both parties can best handle their challenges.
1. HISTORY/BACKGROUND OF THE ORGANIZATION
MRASA is a non-profit organization which was established on the 14th of November 2008 and registered with the Department of Social Development as an NPO (068-857-NPO) on the 24th of June 2009. Its aims are amongst others; to uplift the plight of refugees; religiously, socially, morally and academically.
The organization was formed; following the May 2008 xenophobic attacks; when some of our people in South Africa turned against their African brethren, accusing them of stealing their jobs, houses, businesses, and taking the opportunities which are supposed to be theirs. The attacks left more than sixty people dead and thousands displaced. Those who died; left their homelands hoping to find something which may change the conditions of their lives across the border; little did they know that they are going to meet their death in the hands of their fellow African brothers.
Following this, a team of dedicated and committed members from different parts of the African continent came together to provide information resources and create ways in which refugees can work together amongst themselves as well as the local communities so that all parties can equally play their respective roles in taking part in developing the communities. This we believe could help in avoiding Xenophobia.
2. MAJOR PROGRAMMES AND THEIR IMPACT
The current programs/services are:
Program 1
KingaBaridi program (Protection against the cold). This program is aimed helping the needy ones in winter. As the coldness knock on our doors every winter, there are thousands of people in our community who are vulnerable to the severe effects of this cold weather especially women and children.
In this program, MRASA raises awareness of this vulnerable community and help raise materials necessary to go through this cold winter. Among the items distributed range from Non Perishable foods, Blankets, Children thermal vests, Children's shoes, Jackets or jersey and Men's clothes.
Program 2
With the goal of empowering refugees with practical skills in sewing, this has helped qualified learners to become professional tailors and even start producing quality products. Well-designed products are produced. These products are sold to local communities and some of the income will come back to the organization when these individuals are well established. See some of the products from our ladies below.
Some of the products made by the women we support
We have several women whom we have trained and they produce items that are sold on markets and they can be able to support their families. Our Plan this year is to further support talented women and they make school uniforms which they can supply to schools or established businesses.
Program 3
Back to school program. This program is aimed at helping school going refugee children with scholastic material so that they study well. In this program, we provide children with pens, pencils, bags, rulers, and much other stuff. The reason this is important is that many refugees are struggling to get work in order to support their families and support their education too.
UNHCR calls for a more realistic approach on all stake holders to help refugees not to be left out of the education system.
MRASA gave scholastic materials to refugees and asylum seekers school children to enable them access quality education. This is in line with United Nations High Commission for refugee's mission.Over three hundred refugee children aged between 7 years and 17 were given stationary including books, calculators, coloured pencils and scholastic materials in the year 2019.
These are some of the testimonies from the recipients:
My name QuenneNgoni I am a refugee from Congo DRC. My dream is to become successful and a honest and hardworking person. I want to provide not only for myself but also for my family.
I thank MRASA for supporting me with scholastic materials like books, calculators etc. I am sure I will benefit from it.
Thank you
My name is NdungaNgoni. I am 16 in grade 11 currently am attending Belgravia High School. My dream is to become a successful Engineer. I would really love to focus on structure and also go to Electric Engineering.
I thank MRASA sponsors for providing me the necessary school materials.
Thank you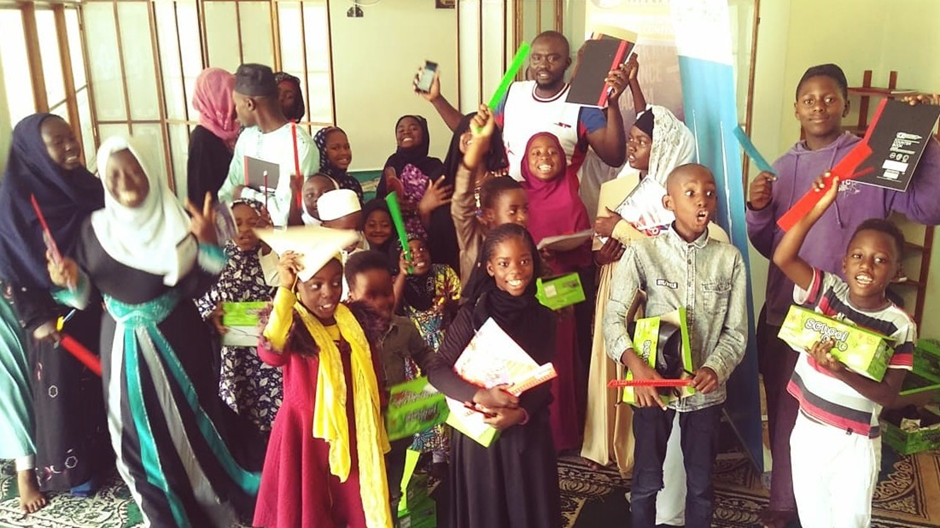 Some of the kids who benefited from MRASA back to school program
We also do tutoring from grade 6-12 learners to help them perform better in class.
Program 4
Rolling back Xenophobia Campaign
Xenophobia in South Africa manifests itself in various ways, from exploitation of refugees in employment and housing matters, to the subtle and not-so subtle social exclusion of refugees from engaging meaningfully within their communities, to outright violent attacks on refugees. Recent studies have indicated that a major cause of the most recent xenophobic attacks was the resentment of the unemployed South Africans that foreigners had caused their unemployment by taking the available jobs. MRASA has embarked on programs aimed at educating our people so that they change their perception on refugees and migrants. We achieve this through coordination with other organisations like South African Human Rights Commission, UNHCR and others, working closing with different media houses, mosques and churches to reach that message. This so far has had a very positive impact on the communities.
Program 5
MRASA's Ramadan Programme
During the holy month of Ramadan, many people especially refugees are faced with challenges of finding something to break their fast with after a long day of fasting. MRASA provides food parcels to the fasting refugees in order to bring a smile during Iftaar. The parcel includes dates, canned beans, fish, peas, rice, sugar, tea, maize mill and other items which bring a smile to a fasting person. Thanks to our donors and the community who trust uswith their donations which is given to those entitled to receive them. Every Ramadan we reach out over six thousand refugees and asylum seekers.
Program 6
Qurbani Program.
Qurbani is the sacrifice of a livestock animal during Eid-ul-Adha. This day is used as opportunity for Muslims around the Globe to be reminded of their duty of serving mankind with their time, effort and wealth. At MRASA, we provide meat to refugees who are far away from their families and also some can't afford to carry out this spiritual act of sacrifice due to their situation.